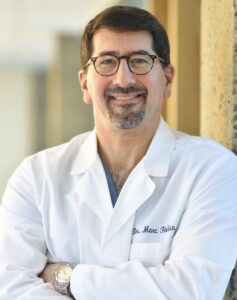 It is a truly great honor for me to serve as the 93
rd
President of the Boston Surgical Society. For over a century The BSS has
been the pre-eminent collegial gathering place for surgeons in the region and has continuously presented outstanding scholarly and topical lectures relating to the science, art and history of Surgery. I vividly recall being invited to attend BSS meetings with my mentors as a young resident in the 1980s. I was introduced to many accomplished surgeons, dined with Department Chairs and textbook authors in the grandeur of Harvard Hall and listened to the wisdom and musings of many brilliant and nationally prominent speakers. It was at the BSS that my Department Chair introduced me to my future fellowship program director and also where I met my future partners. Even more memorably, I attended the Boston Surgical Society's awarding of the Bigelow Medal – the most prestigious award in American Surgery – to Nobel laureate Joseph Murray MD in 1990. The BSS is one of those special advantages those of us who practice in the area have – and the social gatherings and dinner meetings are something every Boston area surgeon should experience.
As I am sure you know, the 2022-2023 BSS season is in full swing and we already have had two outstanding talks. In November,
Dr. Neema Kaseje gave an inspirational talk on delivering lifesaving pediatric surgical services in a complex refugee setting, and in December, David McAneny's presidential address was a historical tour-de-force about the origins of Surgery in Boston and how interconnected our Departments are. In the first half of 2023 we have three meetings planned – plus the annual Tripartite Northeast Surgical meeting with the New York Surgical Society and the Philadelphia Academy of Surgery. On Monday February 6 we will meet by Zoom for what should be a spirited pair of debates on colorectal surgery emergencies – perforated diverticulitis and left colon obstruction – with participants from 6 of the 7 Boston area Colorectal Divisions. On Monday March 13
th
we will be at The Commonwealth Avenue Harvard Club in Boston and have invited the Association of Women Surgeons to co-host a session on ergonomics in surgery and protecting yourself in the event of disability. This should appeal to surgeons from every subspecialty. On Monday April 10
th
we have our annual Case of the Year competition with presentations of incredible cases by the residents at our many Boston area surgical training programs. This meeting will be held at The Doubletree Hotel on Soldiers Field Rd. in Allston. Finally,
The Tripartite Northeast Surgical meeting will be held Friday April 28
th
 in New York. Details and hotel accommodations are being worked out, but the program will include a Boston led panel and three scientific podium slots have been reserved for Boston resident presentations. Attendance is a great opportunity to represent The Society and then spend a weekend in New York City.
The Boston Surgical Society and its traditions are a wonderful part of being a surgeon in Boston and I am honored to be its steward for 2023. Along with the Executive Council I encourage all of you to nominate colleagues and young surgeons at your hospitals and in your practices for membership so that they too can enjoy everything that we offer. I hope to see all of you on Zoom in February and in person in March and April
Marc S. Rubin MD FACS, FASCRS
2023 President, Boston Surgical Society