Unfortunately, the April 2020 meeting has been cancelled because of the COVID19 situation. Please stay tuned for details on re-scheduling this event.
HISTORY OF THE
"TRIPARTITE MEETING"
RENEWAL – 2017
Decades ago, the Philadelphia Academy of Surgery (PAS), the New York Surgical Society (NYSS) and the Boston Surgical Society (BSS) would periodically convene as the "Tripartite Meeting".  Times changed and so did participation.  Today we are grateful to the leadership of the NYSS and PAS for enthusiastically welcoming the BSS back into the fray in 2017.  Our three Societies convened for an outstanding academic and social program at the Penn Club in the heart of Manhattan.  A wonderful collaborative spirit across education and friendship was revitalized. Many stayed on across the weekend to enjoy New York City.
FROM THE LEFT: Mark Callery, MD (BSS), Marc Sher, MD (NYSS) and Babak Abai, MD (PAS).
A NEWLY NAMED MEETING – 2018
The 2018 Northeast Surgical Meeting at the Union League in downtown Philadelphia was enjoyable and successful. The event continues to grow with over 100 members and guests attending and participating. The BSS was graciously welcomed and included by Niels Martin, MD President, Philadelphia Academy of Surgery and Henry Pitt, MD, Scientific Program Officer. The social program and reception to conclude the day was relaxing and uniting. You may learn more about the 2018 meeting from the event program.
Please visit the New York Surgical Society website
Please visit the Philadelphia Academy of Surgery website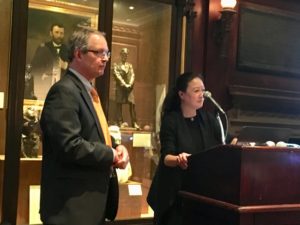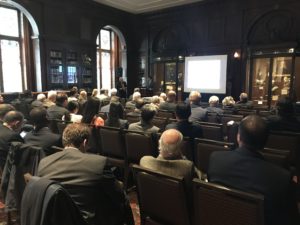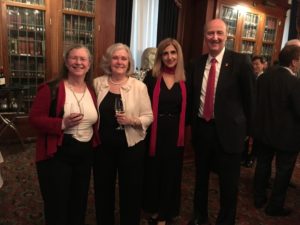 LOOKING AHEAD … BOSTON 2020.
The BSS Executive Council has set as a 2020 goal to welcome The Northeast Surgical Meeting to Boston.  With everyone's input and participation, we can realize a great event!
If you would like to participate in the planning and execution of this goal, please let the BSS know using the "Contact Us" website link.